A Videogame for the PlayStation 2
NOTE: This was originally written in 2008, thus the dated references. There is more information below as to why I am re-posting it.

It has been known for a long time that gamers are a fickle bunch. We are sometimes so fickle that we will cuss and moan about something until blue in the face, then gobble up something else for the exact same reason. All of us are prone to this many times; for example, even I can't stand sandbox games, but love a Wii game called "No More Heroes" and will defend it at the drop of a hat. Flash back to the launch of the PS2 and a little game called Ring of Red by Konami. RoR is one of those games that not only crossed genres well, but to some became a classic, and a diamond in the rough among games that came out early in the PS2 lifecycle.

Ring of Red was one such game that, as the title of this article suggests, fell through the cracks for many gamers. It wasn't particularly hated, but generally overlooked by many gamers. One reason this happened was the way reviewers handled realistic wartime graphics at the time seems at odds with our tastes today. Now if you look at many war games, the games are praised for the stylistic choice. A choice where it looks like your soldiers are mud wrestling on concrete through a sepia toned camera lense.

I purchased the game because I am a history buff, and anything that tries to present an intelligent alternate history scenario is pretty intriguing to me. I instantly fell in love with the game, and began to seek out the views of others. Upon inspection, I was shocked to see the bad reviews it was getting. Most of the time people were mad that it was not some kind of action game, while others bashed the game based on the graphics. I remember a pretty harsh review in PSM magazine at the time. Said review criticized the game's mechanics heavily, and gave it a 6 out of 10 based on the fact that it was a fairly realistic drab game with hardly any colors other than brown and gray, and that the mechs moved painfully slow.

This could be a fair assessment, given that many were so used to fast paced mech games like Omega Boost for the PS1, which handled like an episode of Macross with endless missiles and quick Star Fox-like gameplay. In Ring of Red, however, you are placed in diesel powered walking tanks, that are much less Gundam-like, and more of—well a walking talk. In this context Zone of the Enders style mecha would have been out of place and anachronistic. In the 1960's you would not be piloting graceful ballerina mechs that move that they are covered in butter, and sliding on ice.
In the game, you are equipped with slow machines with arcane shooting systems that are hard to use and occasionally break down. In order to build tension, the programmers added in a limited operation time before the mecha overheats, making you have to savor the little time you have in each round, to really make that round count. All of these factors provide an almost realistic application for a walking take in the 1960's. To me, this was a refreshing mech game, that was not so based on anime, as it was real life. These reviews, all slamming the "ugly brown and grey graphics", were harsh on the game, and kept many from even looking at it.

The story grabs you right from the beginning with the following chilling cinematic that melds stock footage of WWII era warfare with a cgi mecha walking in the background. It is at this point that you feel very concerned at what the world could have been like had one solitary event happened differently than it did in our history.
Next we gradually learn of the immense back-story that involves a war set in the 1960s in the aftermath of World War II. According to the alternate timeline, Japan did not surrender in 1945, and the United States of America did not deploy the atomic bomb to end the war in the pacific front. Japan was captured instead by an allied invasion by land. Because of post-war hostilities between Russia and the US and Europe, the north part of Japan was fenced off into communist North Japan and democratic South Japan. During the war Hitler unleashed a series of walking tanks called AFWs into service that have remained a terrifying war machine from then on.
From then on you are graced with a strategy RPG in a similar vane to Front Mission, except the battles are far more interactive. Players begin with their AFW standing in opposition to the enemy AFW in a standoff. The objective of combat is to destroy the enemy AFW. The Battles consist of players moving and operating their AFW and issuing orders to accompanying infantry. These infantrymen have to be commanded to move from the front guard to the rearguard at strategic times in order to do their trained tasks, whether it be minelaying, grenaidiering, or sabotaging. This adds a lot of extra strategy to the game, as you really had top keep up with what you had, and the strengths and weaknesses of your units.

AFWs must wait until their main weapon is loaded before they can attack, either against the enemy AFW itself or its infantry support. When aiming, players are given a first-person view from the AFW along with a hit probability percentage. The more time spent aiming, the better it will turn out. If you wait too long; however, and you will probably get shelled by your enemy.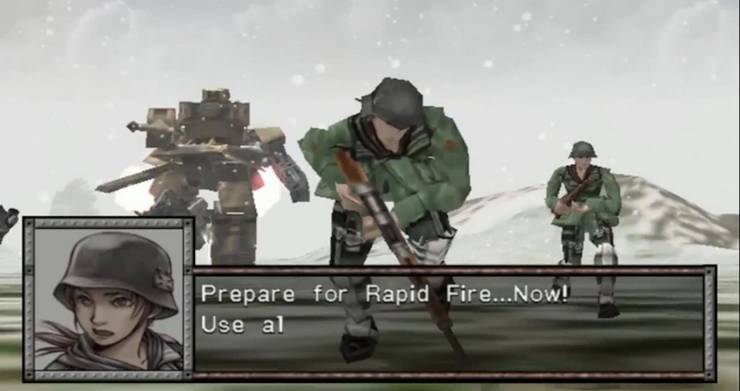 Without actually reviewing the game, I would like to bring attention to it, and hopefully inform a gamer of a game they may never have played. I understand that one reason that many strategy games have failed is because they are a niche genre that only enthusiasts of the genre tend to like, but many of said enthusiasts also seem to have never heard of this game for whatever reason.
BOTTOM LINE: if you are a fan of games like Front Mission, please check this out, you won't be sad.

Availibility: RoR can be purchased for as little as 10 USD on Amazon or Ebay.
NOTE: Close to a decade ago, I worked for a gaming website called Gamrfeed, sadly the site folded and was absorbed back into it's parent website VGchartz a long time ago. When I started working at my current job in 2011, I sadly did not have time to continue producing articles on the schedule that was required, so I had to drop it. I was really proud of some of the work I did on there, and do not want it to disappear into the ether as most websites do after a while.