A graphic novel by Garth Ennis, Carlos Ezquerra, Hector Ezquerra, Tony Avina and Simon Bowland.
NOTE: I received a free preliminary, and likely unedited copy of this book from Netgalley for the purposes of providing an honest, unbiased review of the material. Thank you to all involved.
I've been a fan of Garth Ennis for a while, and while I definitely enjoy his classics such as Preacher or The Boys, I have grown very fond of his lesser-known military-themed books ever since I did a promotion a while back and inquired a whole slew of Battlefields books. When I saw that this volume was available, I jumped at the chance to check it out. I think the one thing I appreciate the most about these books is that, while definitely casting The Allies as heroes in most books, he doesn't pull punches. Bad things happen in war, and its important to show that – for far too long we've been fed a steady stream of overly-patriotic Captain America vs Hitler stories, completely undermining the fact that war is horror-incarnate. Ennis excels at showing the human side of war, and the toll it takes.
After D-Day the largely untried Allied armies meet their seasoned German counterparts on the killing grounds ofBocage country. As Panzers and SS units turn the French hedgerows into a slaughterhouse, a lone British tank crew struggles to rejoin their squadron. Their only hope lies in their commander, Corporal Stiles—but does even this wily old trooper stand a chance against the infamous Tiger? Newly promoted but just as angry, Sergeant Stiles enters the battle for Germany in command of a Sherman Firefly—capable of taking out any tank thus far encountered. Unfortunately, the enemy have a new tank of their own, the mighty "King Tiger," with twice the firepower of the original. As Stiles and his men join the Allied advance into the Nazi homeland, they find worse horrors than Tigers lurking in the German twilight.

Book description
This volume is comprised of nine comics, grouped into three separate story-arcs in the life of Sergeant Stiles, a tough as nails tank commander from Newcastle that has seen it all in the world of mechanized combat and is one of the few who has lived to tell the tale. Usually lamenting on the poor state of British tank engineering in the face of ever increasing mechanical brutality from Germany, Stiles is well respected despite his Geordie accent being a focal point of mocking. One little tidbit I enjoyed was that we learn Stiles is Pagan when they were forced to shell a German church, makes me like him even more.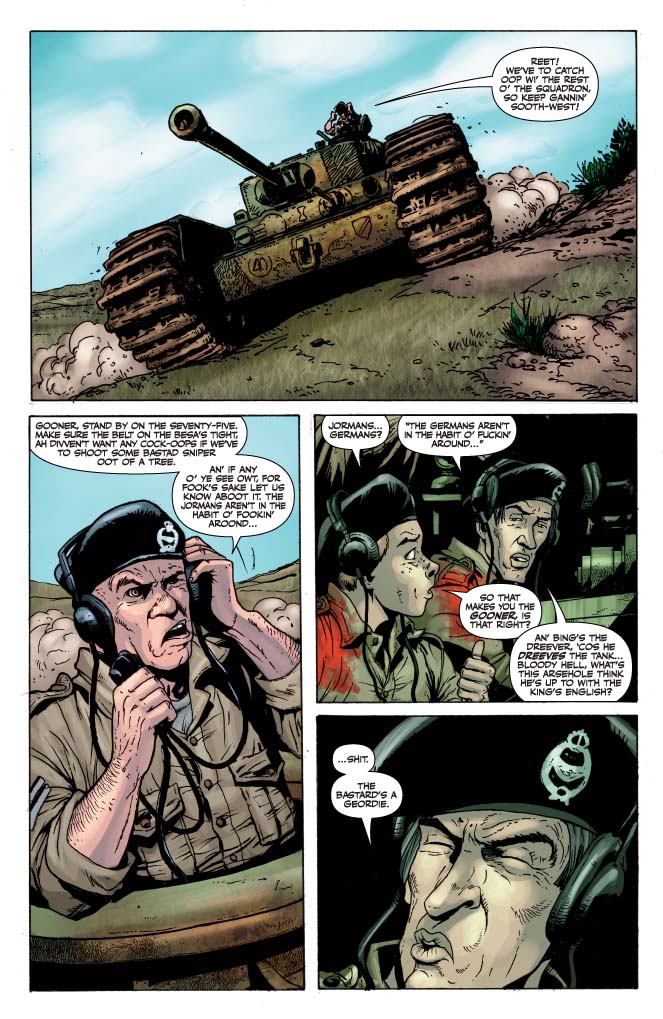 The third section takes place during the Korean War, which I am glad to see. My Grandfather served in that war, and I always think it gets largely ignored by just about everyone, so seeing it here was awesome. It was crazy to see the shift in battlefield tactics. German tank commanders in parts one and two almost seem aristocratic and machine-like vs the relentless hordes of Chinese soldiers they come across in Korea. Men climbing on the tanks, trying to drop bombs in the engines, doing suicidal attacks. Sheer insanity I can imagine.
Carlos Ezquerra (1947–2018) was the artist for this series, and I have seen him do the pencils for much of Ennis's war books – he's great at the technical side of historical aircrafts, tanks, guns etc, as well as depicting humans and the actions of war. When I saw that the book was dedicated to him, I was sad as he was always a n artist I looked forward to seeing in this genre. Best known as one of the original creators of Judge Dredd, Ezquerra will be VERY missed.
This was a great book, and any fan of war comics, history, or honestly anyone into comics at all should check out. Stiles is a great character, and I'd love to see him pop up again, although I'd imagine this will be all as it ends in a decent spot. I loved the afterward, which is a lengthy essay detailing where some of the ideas for the book came from, you can tell Ennis is interested in teaching history here, and as a history buff, I loved it.